Parallelaktion Kunst 2019 von 2. September bis 28. September in der Galerie Kunstraum 1010 Wien
Rafael los Santos ( Violine), Anna Volovitch (Klavier) und Marcus Schmidinger (Horn) spielten das berühmte Trio von Brahms und Werke von Grieg am 17. September 2019. Winfried Barowski, Otto Bauer und Hubert Thurnhofer vor meinem Gemälde "Hidden Treasures". Vielen Dank!
---
Vernissage am 2. September 2019: Mein Gemälde "Hidden Treasures", Öl, Pigment, Glitzer auf Leinwand, 150 cm / 100 cm, 2018
---
Two Italian exhibitions at Galeria La Principina in Castroreale and
at Galeria Mistral in Cariati, Sicily 2019/07/01 - 2019/ 08/ 20
My paintings "Dark sides I+II", 30/ 30 cm oil on canvas 2018 © Christina Mitterhuber
---
Summer exhibition at Gallery Artinnovation Innsbruck 2019/07/26 - 2019/ 09/ 02
My paintings "Definitely", "Characters", "All between", "Melodies", 70 / 50 cm mixed media on canvas 2018 © Christina Mitterhuber
---
"Earth connected..." at gallery Kunstraum 2019/ 05/ 27 - 2019/ 06/ 15
Mein Gemälde "Paradise Garden", Öl auf Leinwand, 70 / 50 cm, 2018 © Christina Mitterhuber 
Ehemals The New York Philharmonic Vladimir Tsypin und ich nach einem wunderschönen Konzert mit Werken von Mozart, Chopin, Scriabin... 
Bona Amann spielte bei seinem ersten Solo Konzert wunderbar traditionellen Jazz, New Orleans Blues und Boogie Woogie.
1st Piano Day am 15.Juni 2019 mit dem grandiosen Pianisten Philippe Devaux!
Ernst Zdrahal, Franz Groihs, Hubert Thurnhofer, Philippe und ich vor meinem Gemälde "Paradise Garden"! 
Yuko Ito, Erika Aida, Yuka Tamura, Maiko Hirayanagi spielten 4 - 6 - 8 händig bei der Finissage der Ausstellung "Erdverbunden...".
---
"All travel II" at Gallery Kunstraum 2019/ 04/ 08 - 2019/ 05/ 04 
My paintings " WE in red VII", "True colors" - "blue", "red", "yellow", "green" © Christina Mitterhuber
"Mit dem Zyklus "True Colors: Blue, Red, Yellow, Green" greift Christina Mitterhuber die Theorie der Grundfarben auf. Der Wahrnehmungsforscher Ewald Hering hat auch von "Urfarben" gesprochen und die besondere Wirkung der Komplementärfarben Blau-Gelb und Rot-Grün beschrieben. Die Künstlerin Christina Mitterhuber bestätigt mit emotionaler, spontaner Gestik, was Wissenschafter in langen Studienreihen herausgefunden haben: die Intensivierung des Farberlebnisses in der unmittelbaren Interaktion der einzelnen Urfarben." ( Hubert Thurnhofer, Wien, im April 2019)
---
Ernst Zdrahal und ich bei der Vernissage der Weihnachtsausstellung am 3. Dezember 2018 vor meinen Gemälden v.l.n.r. "WE in red I-III", "Eisrosen III-VI" und "Eisrosen I" © Christina Mitterhuber
---
Ort: der Kunstraum in den Ringstrassen Galerien
        1010 Wien - Kärntnerring 11-13/ 144 (Obergeschoß)
Mo-Fr 10.00 -19.00, Sa 10.00 -18.00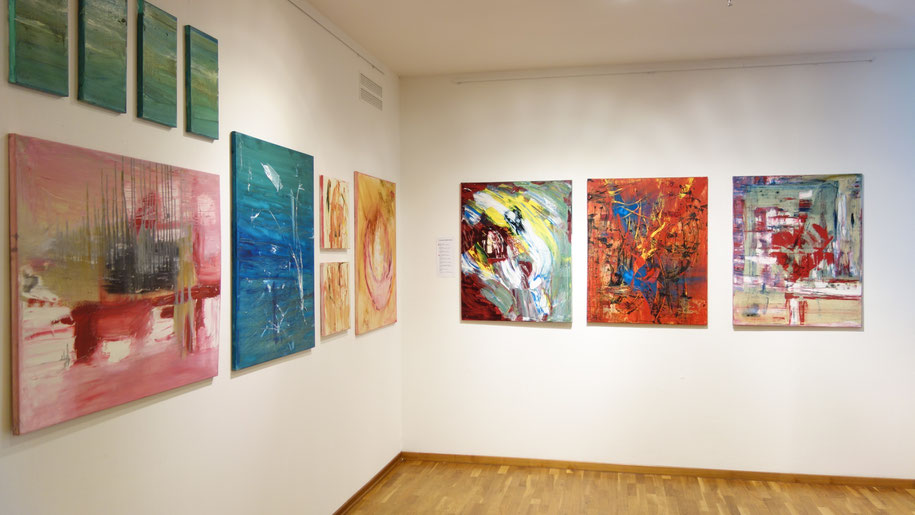 Meine Gemälde bei der Ausstellung "Parallelaktion Kunst 2018" in der Galerie Kunstraum.
v.l.n.r. "Ebbe I-IV", "Hafen", "Wasser", "We", "We II", "Eclipse", "Solution", "Always the light, always", "Magic".
© 2018 Christina Mitterhuber
---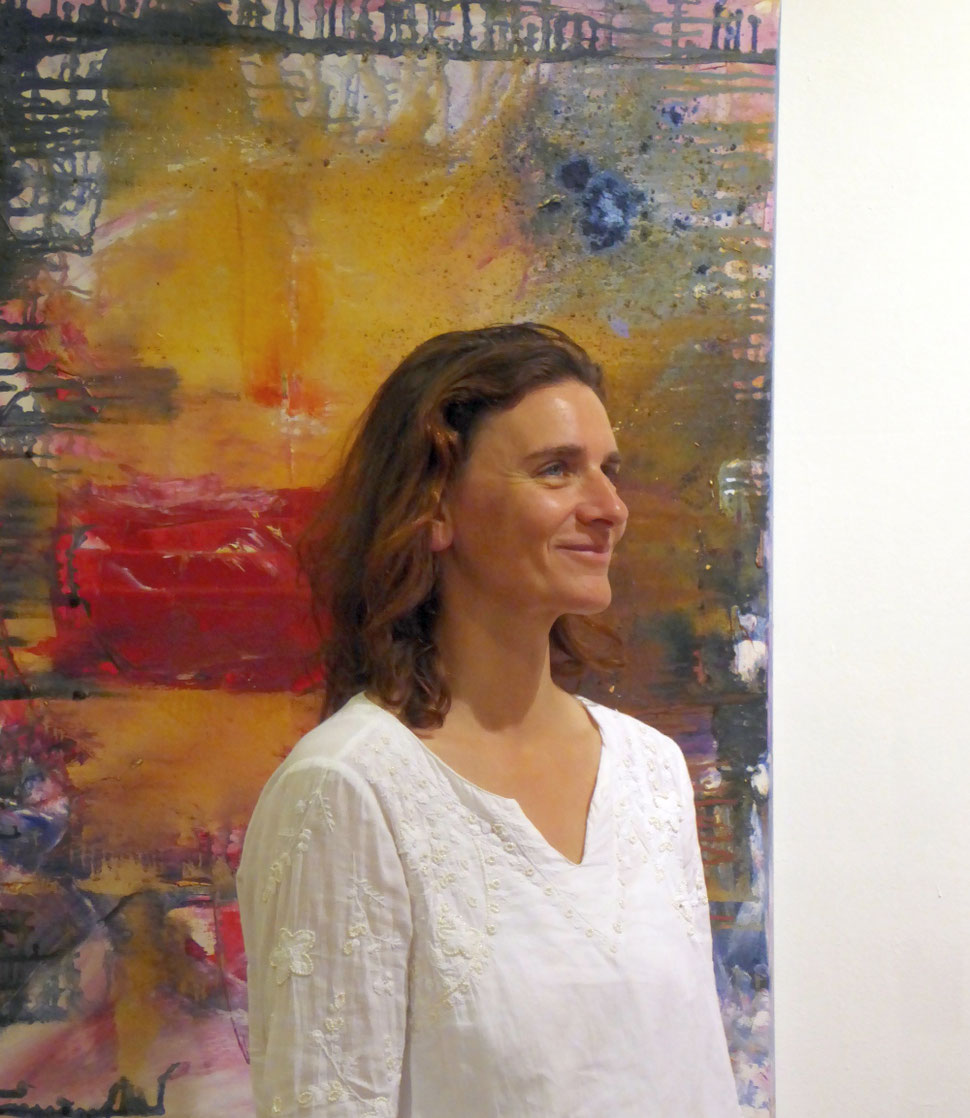 Ausstellung "Feuerwelten" Juni 2018 in der "Galerie Kunstraum"
 Mein Gemälde "Fireworks" © Christina Mitterhuber